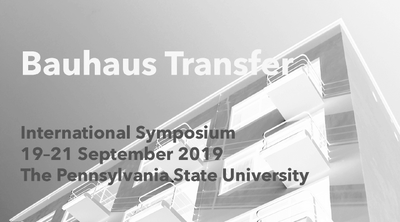 September 19-21, 2019
The Pennsylvania State University
Celebrating the 100th anniversary of the most important school for Modernist design, the Max Kade Institute will hold an international conference to explore the influences of Bauhaus ideas, theories, concepts, and principles around the world from the second half of the twentieth century until today.
Bauhaus was on the move from the start. Opened 1919 in Weimar, forced to move on to Dessau 1925, then Berlin in 1932, until the school was shuttered by the Nazis and many of its members migrated internationally, not only to the United States.
On the 100th anniversary of its founding, Bauhaus Transfer will explore the role Bauhaus designers played in the history of transnational design. How can we trace the spread of Modernist design globally through the movements of Bauhaus students and teachers? How are different sites in the world linked through Bauhaus principles? What routes did Bauhaus design take after leaving Germany? How did the urgent needs of these new locations revise Bauhaus design principles or pedagogical practices? How did Bauhaus networks extend beyond the German and English-speaking world into Soviet, Indian, Brazilian, African, and East Asian contexts?
Organized by Professor Ute Poerschke, Architecture (uxp10@psu.edu) and Professor Daniel Purdy, German (dlp14@psu.edu)
Supported by the Max Kade Research Institute, Stuckeman School of Architecture and Landscape Architecture, Palmer Museum of Art, and Wolkenkuckucksheim|Cloud-Cuckoo-Land
THURSDAY, SEPTEMBER 19, 2019
Palmer Museum
5:00 pm Opening Remarks
5:30 pm Palmer Museum of Art; Keynote Elizabeth Otto, University of Buffalo
FRIDAY, SEPTEMBER 20, 2019
Stuckeman School Jury Space

9:00 am Opening Remarks and Introduction to the Symposium
SESSION 1: TRANSFERRING THE UTOPIAN SOCIETY
9:30 am  Ronny Schüler: Myth and Reality. Bauhaus Transfers to Palestine and Israel
10:00 am  Philip Glahn: The Bauhaus – Lost in Transfer: Art as Work
10:30 am  Lynnette Widder: Whose Modernism? The 1953 Bauhaus Debate and the Right to Define Modern Architecture
11:00 am  Nina Kazhar, Mariuz Zadworny, Nina Sołkiewicz-Kos : Bauhaus Ideas and Soviet Cities
12:15 pm Discussion of Albers and Rauschenberg Paintings
SESSION 2: TRANSFERRING THE DISCOURSE ON STYLE, FORM, AND COLOR
1:30 pm  Tom Steinert: Transparency
2:00 pm  Adele Nelson: Under the Sign of the Bauhaus: The Brazilian Postwar Avant-Garde
2:30 pm  Vanessa Trioano: Bauhaus Transference from Josef Albers to Robert Rauschenberg
3:00 pm  Round Table
4:00 pm  Keynote Juan Heredia, Portland State University
SATURDAY, SEPTEMBER 21, 2019
Stuckeman School Jury Space
SESSION 3: TRANSFERRING BAUHAUS PEDAGOGY
9:00 am  Peter Stasny: Ludwig Hirschfeld‐Mack (1893‐1965) and the Bauhaus in Australia
9:30 am  Liyang Ding: Huang Zuoshen and the Bauhaus-Based Architectural Education at St. John's University, Shanghai, 1942–1952
10:00 am  Cathy Braasch: Robert Reed and Albers at Yale
10:30 am  Gloria Köpnick: Hin Bredendieck – From Aurich to Atlanta
11:00 am   Round Table
SESSION 4: TRANSFERRING DESIGN/ART PROCESSES: ART, DESIGN, GRAPHIC DESIGN
1:30 pm  Eduard Führ: What is Transfer Anyway?
2:00 pm  Jan Logemann: Gaps and Bridges: Transnational Careers of Bauhaus Artists and the Transformation of Commercial Design
2:30 pm  Pep Aviles: Marcel Breuer in the United States
3:00 pm  Round Table
4:00 pm  Keynote, Andong Lu, Nanjing University