Race Theory in Enlightenment Anthropology: The Conceptual Legacy
March 24-25, 2022
The Pennsylvania State University
Daniel Purdy, director
Max Kade German-American Research Institute
Funding provided by the Penn State College of the Liberal Arts
Keynote Speaker: Robert Bernasconi, Penn State University
The conference will explore how eighteenth-century German theories about race connected with later discourses on colonial settlements, both within and outside Europe.  Which concepts and configurations were transferred across the nineteenth century? Which arguments were overlooked or ignored? Given the multiple often contradictory positions developed in the Enlightenment, we want to explore how later race thinkers responded to these first formulations.  How do Enlightenment debates prefigure later anti-racist positions? Do fin-de-siecle and Nazi racisms posit a lineage with Enlightenment anthropology?
German racial discourses have multiple sources, drawing on Classical rhetoric, early modern colonization of the Americas, missionary reports, rationalizations for the African slave trade, Russian intra-Asian colonization, the long history of anti-Semitism, and the imposition of German cultural hegemony across Eastern Europe. The conference will explore possible continuities and reversals from eighteenth-century debates about race involving Immanuel Kant, Georg Forster, Gottfried Herder, along with numerous Göttingen professors to broader nineteenth-century writing about German settlers across Asia, Africa, and the Americas.  Not only will we consider writing from German settler communities dispersed throughout the world, but we will also explore racial distinctions used to justify the continued eastward expansion of Hohenzollern and Habsburg empires.   At the same time, we seek to understand how Wilhelmine German colonies during the Imperial Reich are connected to the larger dispersion of northern European settler communities.
We will ask whether communities in the Americas, East Asia, and the Pacific share the presumptions, intentions, tropes, and classifications developed during the eighteenth century? Given that German discourses about race did not emerge only within state-sponsored colonial administrations but rather drew also more diffusely from (1) the history of German settlements operating under foreign sovereigns; (2) scientific investigations and their attendant reports; (3) personal narratives presented as edifying missionary reports, novels, poems, and travelogues. The Enlightenment was also a principle source for anti-colonial arguments, thus we will consider: How settler relations and their publications diverge from the broad conceptual terms of race theory? To what extent do localized German publications in the 19th century shift away from the contours of ethnic and racial difference established in the eighteenth? To what extent do local publications within settler communities present alternative ethnographies? How do later anti-racist statements also draw from Enlightenment principles?
Thursday, March 24, 2022

The Grucci Room, Burrowes Building, Pennsylvania State University
10:20 Dean Clarence Lang, College of the Liberal Arts, Pennsylvania State University:
Welcome
10:40 Daniel Purdy, Penn State University
What do we want to learn from this conference?
11:15 Robert Bernasconi, Penn State University:
Philosophical Histories as Sites of Racism
Lunch Break
1:30 Jeannette Eileen Jones, University of Nebraska:
'On the Brain of the Negro': The Impact of the German Enlightenment on 19th Century Theories of Blackness
2:30 John Noyes, University of Toronto:
Race as Urphänomen. Chamberlain reads Herder
3:30 Jameliah Shorter-Bourhanou, College of the Holy Cross:
Reinventing Kant
Coffee break
4:30 Micol Bez, Northwestern University/ Ecole Normale de Paris — Institut Jean Nicod:
Facta, Ficta and Picta: Re-thinking Race with Nietzsche and against Kant?
Friday, March 25, 2022

The Grucci Room, Burrowes Building, Pennsylvania State University
10:00 Jürgen Overhoff, University of Muenster:
Prussia's Hidden Slaves: The Lives of Africans in Berlin and Königsberg in the Eighteenth Century
11:00 Carl Niekerk, University of Illinois, Champagne-Urbana:
Race, Enlightenment Anthropology, and Radical Thought
Lunch Break
1:30 Adam Blackler, University of Wyoming:
Popularizing the Nation: Colonial Literature and the Imperial Imagination
2:30 Patricia Simpson, University of Nebraska:
Enlightened Climates: The Chemistry of Skin and the 'Souls of Slaves' (1800/1900)
3:30 Patrice Nganang, State University of New York—Stony Brook:
The Peripheries of a World War
Masking is required while inside University buildings and classrooms, regardless of vaccination status, by all individuals, including guests and speakers. For large events and press conferences, however, if the speaker is on a stage, at a podium or otherwise physically distanced from the audience, the speaker may remove their mask while delivering their remarks.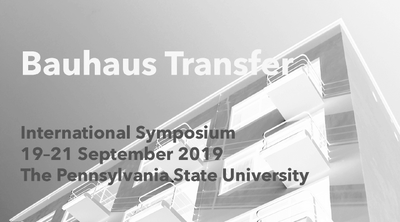 September 19-21, 2019
The Pennsylvania State University
Celebrating the 100th anniversary of the most important school for Modernist design, the Max Kade Institute will hold an international conference to explore the influences of Bauhaus ideas, theories, concepts, and principles around the world from the second half of the twentieth century until today.
Bauhaus was on the move from the start. Opened 1919 in Weimar, forced to move on to Dessau 1925, then Berlin in 1932, until the school was shuttered by the Nazis and many of its members migrated internationally, not only to the United States.
On the 100th anniversary of its founding, Bauhaus Transfer will explore the role Bauhaus designers played in the history of transnational design. How can we trace the spread of Modernist design globally through the movements of Bauhaus students and teachers? How are different sites in the world linked through Bauhaus principles? What routes did Bauhaus design take after leaving Germany? How did the urgent needs of these new locations revise Bauhaus design principles or pedagogical practices? How did Bauhaus networks extend beyond the German and English-speaking world into Soviet, Indian, Brazilian, African, and East Asian contexts?
Organized by Professor Ute Poerschke, Architecture (uxp10@psu.edu) and Professor Daniel Purdy, German (dlp14@psu.edu)
Supported by the Max Kade Research Institute, Stuckeman School of Architecture and Landscape Architecture, Palmer Museum of Art, and Wolkenkuckucksheim|Cloud-Cuckoo-Land
THURSDAY, SEPTEMBER 19, 2019
Palmer Museum
5:00 pm Opening Remarks
5:30 pm Palmer Museum of Art; Keynote Elizabeth Otto, University of Buffalo
FRIDAY, SEPTEMBER 20, 2019
Stuckeman School Jury Space

9:00 am Opening Remarks and Introduction to the Symposium
SESSION 1: TRANSFERRING THE UTOPIAN SOCIETY
9:30 am  Ronny Schüler: Myth and Reality. Bauhaus Transfers to Palestine and Israel
10:00 am  Philip Glahn: The Bauhaus – Lost in Transfer: Art as Work
10:30 am  Lynnette Widder: Whose Modernism? The 1953 Bauhaus Debate and the Right to Define Modern Architecture
11:00 am  Nina Kazhar, Mariuz Zadworny, Nina Sołkiewicz-Kos : Bauhaus Ideas and Soviet Cities
12:15 pm Discussion of Albers and Rauschenberg Paintings
SESSION 2: TRANSFERRING THE DISCOURSE ON STYLE, FORM, AND COLOR
1:30 pm  Tom Steinert: Transparency
2:00 pm  Adele Nelson: Under the Sign of the Bauhaus: The Brazilian Postwar Avant-Garde
2:30 pm  Vanessa Trioano: Bauhaus Transference from Josef Albers to Robert Rauschenberg
3:00 pm  Round Table
4:00 pm  Keynote Juan Heredia, Portland State University
SATURDAY, SEPTEMBER 21, 2019
Stuckeman School Jury Space
SESSION 3: TRANSFERRING BAUHAUS PEDAGOGY
9:00 am  Peter Stasny: Ludwig Hirschfeld‐Mack (1893‐1965) and the Bauhaus in Australia
9:30 am  Liyang Ding: Huang Zuoshen and the Bauhaus-Based Architectural Education at St. John's University, Shanghai, 1942–1952
10:00 am  Cathy Braasch: Robert Reed and Albers at Yale
10:30 am  Gloria Köpnick: Hin Bredendieck – From Aurich to Atlanta
11:00 am   Round Table
SESSION 4: TRANSFERRING DESIGN/ART PROCESSES: ART, DESIGN, GRAPHIC DESIGN
1:30 pm  Eduard Führ: What is Transfer Anyway?
2:00 pm  Jan Logemann: Gaps and Bridges: Transnational Careers of Bauhaus Artists and the Transformation of Commercial Design
2:30 pm  Pep Aviles: Marcel Breuer in the United States
3:00 pm  Round Table
4:00 pm  Keynote, Andong Lu, Nanjing University